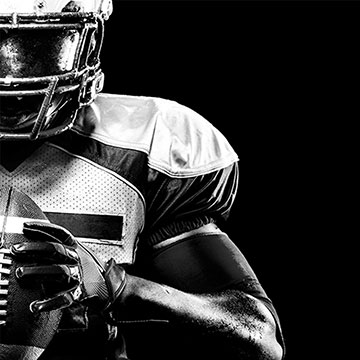 Town folks around Wilderness, Wyoming (pop. 27, 805) say Jimmy Jet could be the best thing to ever come out of these parts since—well, forever. Now, I don't know much about Wyoming, but after watching this kid, Jimmy Jet, on film, I'd say the town folks are definitely onto something.
Jimmy Jet is the real deal!
Jet dashed his way to 2,728 total yards in 2018, breaking the state's Class 1A single-season rushing record. The sleekly-built, 6'0", 180 lbs. RB runs with a type smoothness, assuredness and suddenness that one rarely sees from someone at this young of an age. And blessed with tremendous vision, quickness and 4.42 40-yard-dash peed, once Jet recognizes a crease, he in and out and on his way to another long gainer. And those long jaunts happened practically every time Jimmy Jet touches the ball.
The Wilderness High School Buffalos RB averaged a jaw-dropping 17.6 yards per carry, on only 155 carries, while scoring 32 rushing touchdowns (another Class 1A record). Jet totaled another 7 TDs and 550 yards for the season catching the ball out of the backfield.
"They had to take Jimmy out early darn-near every game because they [team] were so far ahead by halftime. God. Who knows how many yards he would've gained if he played the whole game!" stated Jimmy's dad, Hank Jet. "I knew the boy was something special when he was only six-years-old, running around the ranch chasing after rabbits—and even actually catching one every now and then."
Hank Jet, a high school star athlete at Wilderness High School in his own right, played some AA minor league baseball but never had the opportunity to play ball in college. He thinks Jimmy has the potential to play with the big college boys. But Hank can't recall anyone from the town ever getting a NCAA Division I scholarship offer in any sport.
I think Hank's son, Jimmy Jet, is going to change all that.
Stay tuned for more of The Amazing Adventures of Jimmy Jet, as the 3-sport star prepares for his first state high school track meet where he plans to competes in the 100, 200, and long Jump. The speedster has already posted a wind-aided 10.21 100-meter time in his first dual meet this season.